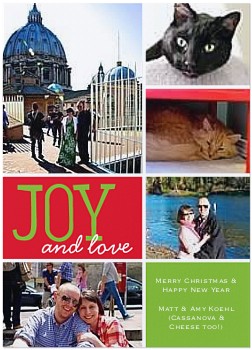 Christmas Greetings!
Since the humans are busy wrapping Christmas presents Cheese and I have taken on the writing of the annual Christmas letter.  Being the more social kitty, I (Cassanova AKA Sir Pukes a Lot) will dictate and Cheese, (AKA ghost cat, Cheezy Wheezy, Cheeze Puff) equipped with her extra toes, will type.
2011 started lovely, well except for the whole dress the cat as Santa thing.  The humans put up a real Christmas tree last year and it smelled amazing.  We felt like outdoor kitties as we napped under the evergreen boughs. There was lots of cooking and we even got to eat their traditional lobster bisque on Christmas Eve. The humans spent a week or more at home, on holiday break from their jobs and we got lots of pets as 2011 started.  It was a merry and relaxing time.
In February, there was a bunch of commotion about somebody turning thirty.  I was confused because I thought the one named Amy turned thirty a couple years ago so it must have been the one named Matt.  They went out with friends to some sort of secret place called a speakeasy.
There was a lot of talk this year about a place called Rome.  The humans did a lot of planning, researching, and talking about this place.  Around May or June they left us for 11 days. They seemed very excited when they came back, we were so happy to see them we forgot how mad we were that they left us home. They brought back limoncello, olive and lemon soaps, italian leather, a papal blessing, and lots of great stories and memories.  They did not, however, bring back any Italian catnip. Hummmphf.
In general the humans have been leaving us a lot this past year. Weddings seem to be one reason they leave for long weekends. We heard that Maggie and Brian, Brad and Ashley, Diddy and Nicole, and Casey and Amanda all got married this year. The humans really seem to like weddings.
They also seem to like babies. We heard that another reason for their trips out of town was to visit new babies. Apparently the humans have a new niece and a new nephew in Fort Wayne and Chicago. Us cats however, are scared of babies and children in general so its a good thing we don't have any in our house right now.
We heard about fourth of July trip to Denver to visit my cousins Tigger, Indy, and Alice (and their humans). There was a trip to the fair and some great singing to Bon Jovi on that one. There was also a trip to Phoenix to the NASCAR races with Amy's Dad. Another time they talked about being Vegas Bound to celebrate a surprise birthday party for a friend. The only overnight visitor to the house was Matt's brother Mark who stayed with us for a week. They had a fun time in Seattle and visiting the Bavarian Town of Levenworth, just over the mountains. Cheese was just getting used to him when he left to go to his new army base in Kansas.
The human named Matt became the president of their Home Owners Association.  It was quiet a surprise, as he showed up at  a HOA meeting and left the meeting as president. He's been doing a great job and is a natural leader. Amy likes being the "first lady" of the HOA because of all the perks, like unhappy homeowners demanding to see her husband early on a Saturday morning.  As first kitties we haven't seen any additional perks. Perhaps we should write a note to the HOA after this.
The humans spent a lot of time on their house this year. The coat closet became a pantry, the walls turned different colors while Cheese and I were trapped in the office, the human's bedroom got a ceiling fan, the balcony got some comfy seating (perfect for Cat naps), a bookshelf was built and new lights mysteriously appeared in the living and dining room ceilings while we were (again) trapped in the office. At the end of the summer the humans celebrated with lots of humans guests and a dog guest (we hid in the office) and there was talk of making the house more warm- whatever that means. Thankfully the rest of the year they didn't make more changes to the house.
Speaking of the office or "our room" as Cheese and I call it. The human named Amy has decided to hang out with us in it Monday-Friday. We heard her say that the new job that she took (same company) lets her work virtual. Virtual must mean "noisy and in our room" because she seems to always be on these things called meetings- looking at the computer screen and talking to a box on her desk. I wonder how long this is going to last. It is seriously cutting into our napping time.  The human named Matt seems to have a new work assignment too. He is something called a team leader and instead of hanging out with us during the day, this new assignment means he works on the computer more at night and on weekends. Its gotten better lately as he has gotten used to his new role. Good thing because I was getting a little jealous that his computer had taken my spot on his lap.
I'm not sure if you noticed, but the humans got smaller this year.  They did this thing called Jenny Craig and lost a total of 55 lbs together.   I've also gotten skinnier. I blame all of the stairs in our townhouse. Cheese on the other hand seems to be getting rounder. (sorry Cheese!)
All in all its been a good and busy year. I saw the suitcases come out earlier today so I fear that the humans are going on another trip. They've been talking about riding the rails from Seattle to Chicago on something called the Empire Builder Train. Not sure what that is about but I'm not happy because the suitcase is bigger than the ones they took to Rome. I wonder how long they will be gone this time.
Cheese and I would like to wish you and your furry friends a very Merry Christmas and a blessed 2012. I know our humans hope to see you this year, although we would prefer that they not leave the house.
Sincerely,
(Matt and Amy too)